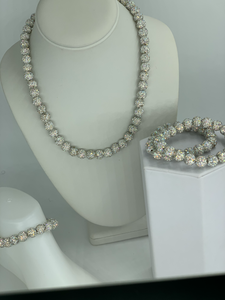 Crystal AB Shambella Set
Regular price $185.00 Sale
 Crystal AB Shambella Set
4 piece set is shown in the picture Necklace 18' 2 Stretch bracelets 7', and a 8.5' anklet
Other combination selections are available for this set.  Please view the selection options above for this item.
****ITEMS WILL BE MADE IN THE LENGTH LISTED ABOVE IN THIS DESCRIPTION... IF YOU NEED A DIFFERENT LENGHTH FROM WHAT IS LISTED, PLEASE MAKE A NOTE IN THE BOX AT CHECK OUT. ADDITIONAL COST MAY INCUR.  EXAMPLE; I need a 20' necklace and 8' bracelet.  
PLEASE ALLOW 7-10 BUSINESS DAYS for your order to be complete and shipped out.  Once your order ships out you will receive tracking details.